White Plains School District
Amount Owed in Foundation Aid: $12,804,867
A tableful of educators, lawmakers and union leaders were leaning in to hear stories of White Plains students shortchanged by diminished funding, when a walkie-talkie crackled.
The caller needed help with a student in emotional crisis. The school health care professionals at the table were familiar with the situation; there are about a half dozen such incidents a day with different students. The rest of the class was evacuated and professionals were able to calm the child.
"We're working backwards," said Laura Fein Zottola, school social worker and member of the White Plains TA. Without enough staff, with elimination of programs, "we wind up missing things on the proactive end."
She is the only social worker for 640 kids.
"If we can catch cases early, if we provide tools for social emotional learning, imagine what they can do in the world," said Denise Cherico, first-grade teacher.
NYSUT President Andy Pallotta knows the problem. When he was a teacher in the Bronx, his school was plagued by student violence, and the lone social worker struggled to keep up. Finally, the school hired three more social workers.
"The entire tone of the school changed," Pallotta said. "We want to stop the crisis before it happens."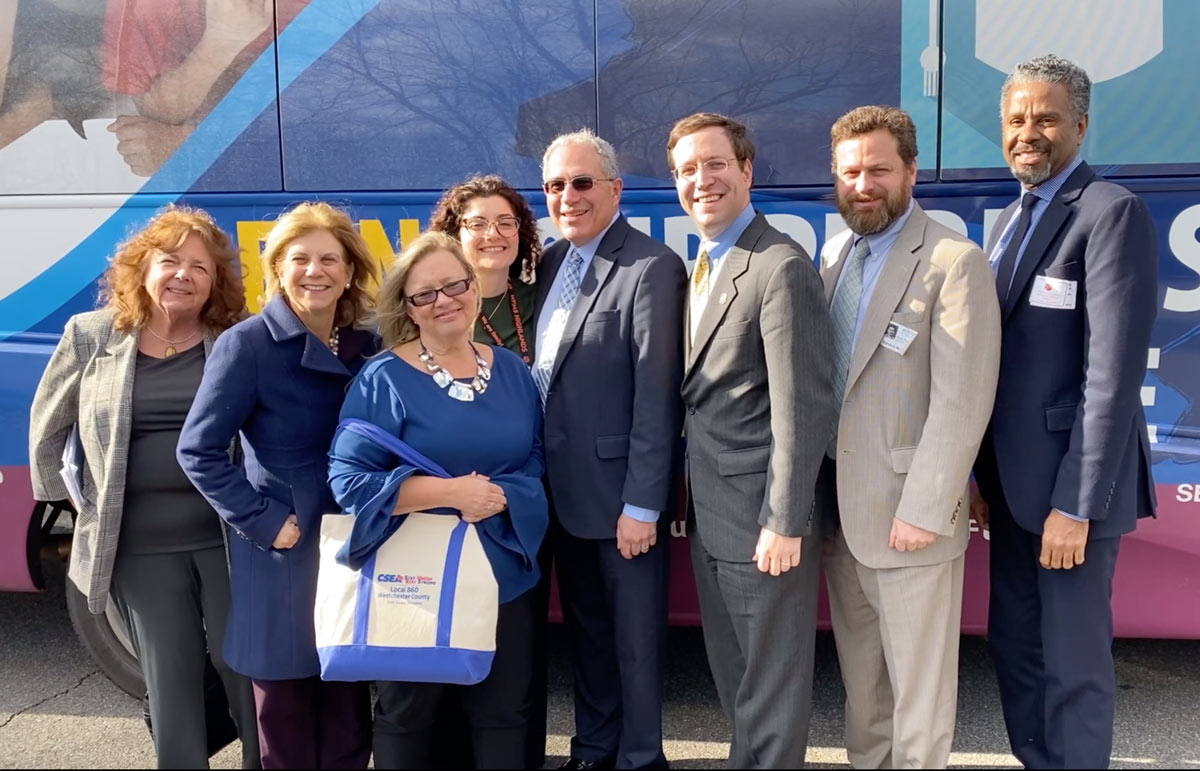 Pallotta, joined by fellow officers Philippe Abraham and Paul Pecorale, continued NYSUT's Fund Our Future bus tour today in Westchester, where they visited an elementary school, a middle school and an alternative school with local union presidents and lawmakers to assess the damage caused by the state's failure to fully fund the Foundation Aid formula.
Income inequality, soaring housing costs, challenges to home life and increasing homelessness have all contributed to more children showing up at the school door with higher needs. Some are hungry, some are neglected, some are raising siblings as parents work multiple jobs, some can't speak English, and some are scared and worn out.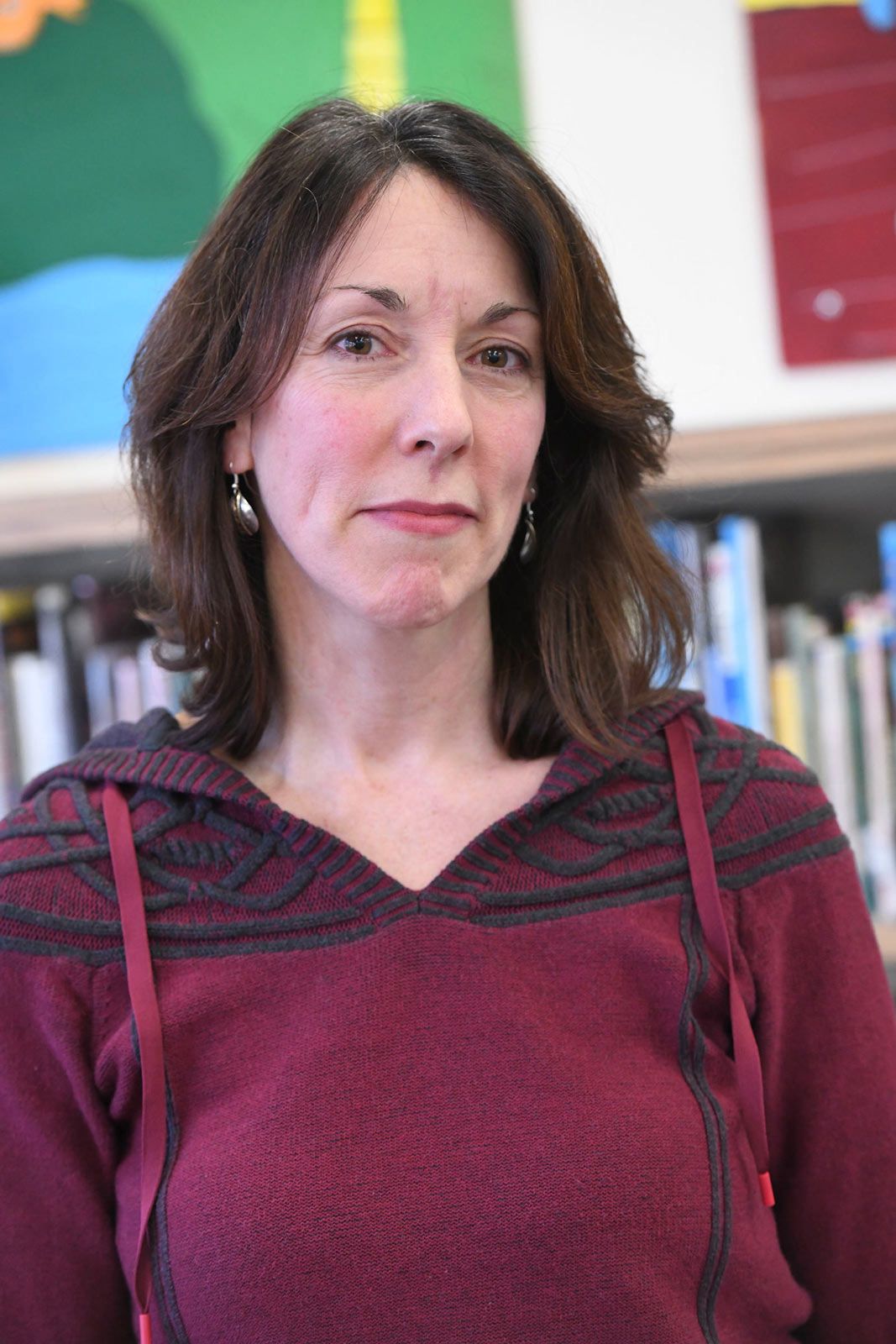 "This is my 27th year teaching and I've never had as many students with social-emotional needs as this year. People are very stressed getting basic needs met. I've never had so many kids come from homeless shelters. Standards and benchmarks are increasing at the same time as student needs are. We need speech therapists, reading interventionists, teachers."
~ Kerry Fine, kindergarten teacher, Ridgeway Elementary
"The impacts of poverty have caused greater stress, and the needs have changed for what a school is required to do," said Senate Education Chair Shelley Mayer, D-Yonkers, noting that 30 percent of people in Westchester paid more than 50 percent of their income for housing.
"These are unprecedented times," said Kara McCormick-Lyons, WPTA president.
To meet some of those needs, teachers are using their own money to donate food and their own time to help students. Jackie Sette, middle school physical education teacher, comes in at 7 a.m. to check in with students feeling stressed and help them start their day. Psychologists deal with students cutting, with suicidal ideation, depression, anxiety, and with students facing cultural barriers. One teacher said two of her students each had a parent who was murdered. Educators and school health care professionals want to be able to offer group counseling, peer groups and parenting workshops.
"Counselors become advocates. If Westchester public schools were better funded the school mental health care professionals could offer more groups, preventative counseling and parenting workshops."
~ Maeva Rich-Kennedy, school psychologist, Highlands Middle School
"Too often we look at budget lines as trudge-it lines," said Sen. Peter Harckham, D-Peekskill. He said it's wonderful to see the faces of students and educators at the Hawthorne Cedar Knolls Special Act school at the end of today's tour.
The Special Act public school district educates students whose needs cannot be met in their local school districts.
Student Luis Alvarez-Rivera shared how the last vocational trades shops disappeared last year when the wood shop teacher retired and was not replaced.
"They took out all the equipment and it was sad," he said.
Robert Kirklin, local president of the Hawthorne Cedar Knolls Paraprofessionals, has been at the school since 1996. He choked up when describing the value of helping a child grow up and thrive since the age of 5.
"I've seen this place fully diminish from the time I got here," he said. "All of the avenues for [student] success are being taken away over and over and over again."
---
Words | Liza Frenette
Images | El-Wise Noisette
---